INTERNATIONAL DESIGN TEAM CALL
We are looking for a couple of new team mates to join us here at PD Towers - if you love to colour, stamp and use digi printables whether it's for cardmaking or scrapbooking, journaling, planners etc, whatever your crafty fix we'd love to hear from you.
We are looking for intermediate skilled crafters - please take a look at our current team and if you think you can fit into the style of what we offer or bring something new to the team we want to hear from you!
We are not a hobby team so we need a professional level of commitment from you and are looking for long term members but will also consider Guest DT as well, and we especially want to hear from people outside the UK, particularly the US and Europe (although don't let this put you off). We will respond to every entry but please give us a month to reply to you.
How to apply: EMAIL US HERE and let us know WHY we need you, together with links to your BLOG (You MUST have an up to date relevant blog), and social media profiles, and details of any other teams you're also in. Good luck!

oOoooOoooOoooOo
Welcome to our today's crafty challenge!
The theme this week, as always is
ANYTHING GOES
PRIZE: $10 gift voucher to the Polkadoodles Download Store.
Closes Fri 20th October, Noon.
Our Top 3 favourite entries chosen by the Design Team will also win a FREE DIGI image from the Polkadoodles store.
You do not need to use Polkadoodles products to enter our challen

ges, use any products you wish...
The winners of our last challenge are at the end of this post.
We have lots and lots of new items in the Polkadoodles store, so make sure you go and check them out - our latest STAMP OF THE MONTH is a real must-have and we are already running low on Christmas stamps so don't miss them!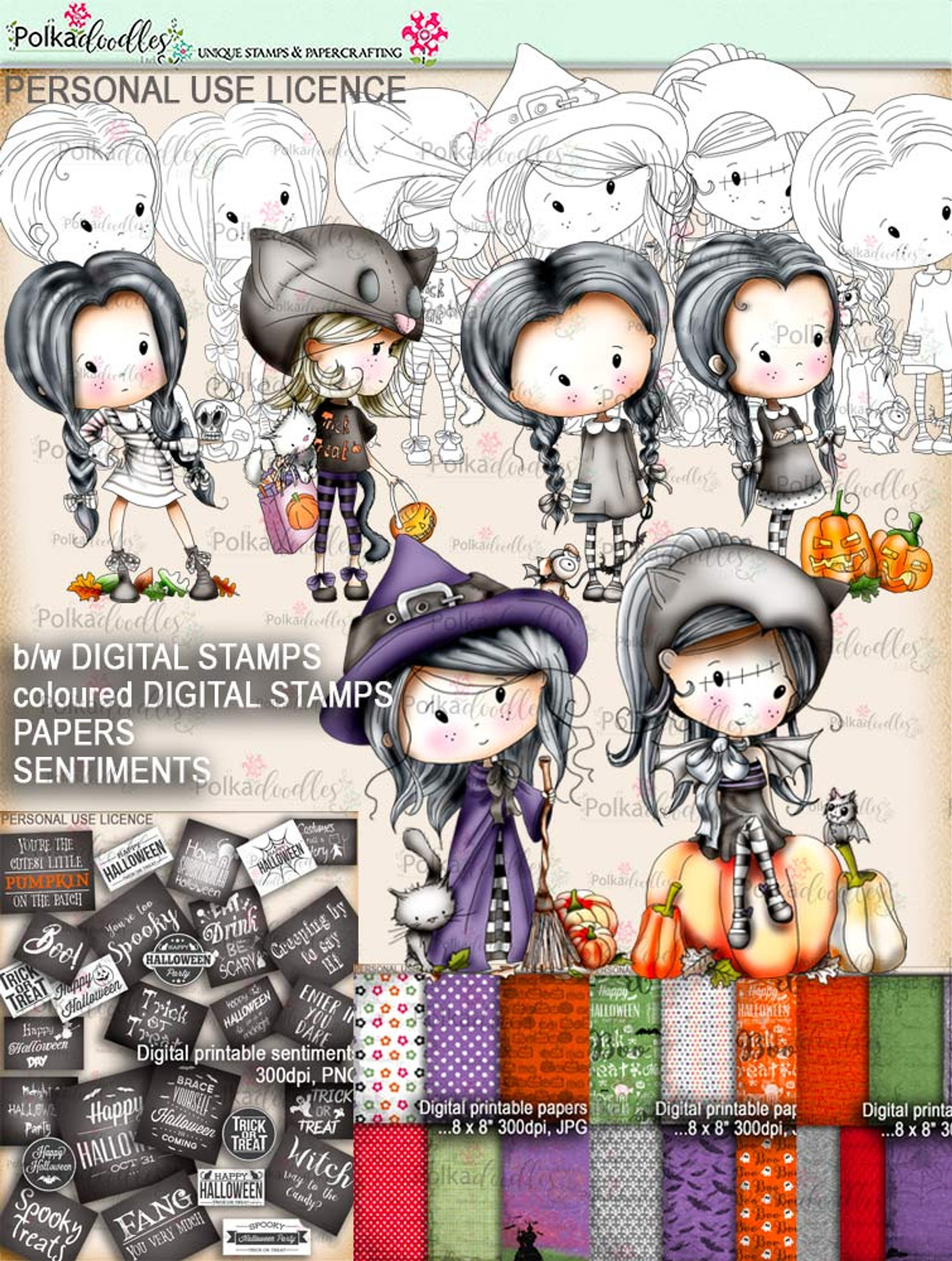 Do you follow our Digi Choosday challenge each Tuesday?
Make sure you check out the challenge here as you might be able to enter here too and the team would love to see your entries!
DIGI CHOOSDAY CHALLENGE - CLICK HERE
So let's see this week's inspiration from the team!...
Jacki BOO!!!! Did I scare you lol who can resist Winnie and she is just as adorable in all her Spookiness. For my card I have made a halloween/Birthday card as I know not everyone likes halloween I have gone for my usual 8x8" card matting the papers onto black card to make the POP!!!
Helen - We're being a bit spooktacular this week for our challenge and what better than the oh so scarey Winnie Wednesday Collection you can find it right here at the store . Just love it great everything and Winnie makes a perfect Wednesday, much like my hubby who makes the perfect Uncle Fester!!
Ruth: I've made a simple pillow box from one of the papers and a sentiment from the Winnie Wednesday Collection I layered the sentiment onto a circle die cut and added a plain black card band so that it can slide off. The sentiment are letter die cuts I found in my stash - I cut up a letter g to make the two o's and then coloured them with Promarkers. The little bats are table confetti.
Norma Halloween give us the opportunity to decorate our homes, that's why I decided to make some letters to welcome my guests this year. I used one of the dgis and one sheet of paper from Winnie Wednesday Collection that you can find here. They are really ease to make and I'm sure they are going to look great at the entrance of my haunting house.
Carol Even though we don't really celebrate Halloween in Australia, I just love the Winnie Wednesday collection and had fun making my card this week with the pre-coloured Winnie Wednesday Witch and Cat. Using orange card, some of the pretty halloween themed papers from the collection, some dies and a ribbon and bow, a very quick and easy card.
As always, Lots of fabulous creations to inspire you this week...
Our Winner and Top 3 of our last challenge will be announced next Friday.
Thanks so much for entering our challenges and sharing your creations with us.
We love coming to visit and seeing your inspiration.
Mister Linky's Magical Widgets -- Thumb-Linky widget will appear right here!
This preview will disappear when the widget is displayed on your site.
If this widget does not appear,
click here
to display it.