Shop on Etsy
(make sure you shop at www.polkadoodles.co.uk as this is our main store, Etsy only carries a few of our product selections, we have 2500 downloads available on the website!)
--------------------------------------------------------------
It's Inspiration Week

and our challenge is
Anything Goes
Our winner of the challenge will receive a $10 gift voucher to the Polkadoodles Download Store.
You have until Noon, GMT, Friday 16th June to enter.
You do not need to use Polkadoodles products to enter our challenges.
We only have a few little rules and they are over there in the side bar ----->
Our Winner and Top 3 of our Anything Goes Challenge Weeks 20/21
will be announced at the end of this post....
------------
We have LOTS of new download releases in the store right now, make sure you check them all out... Adorable!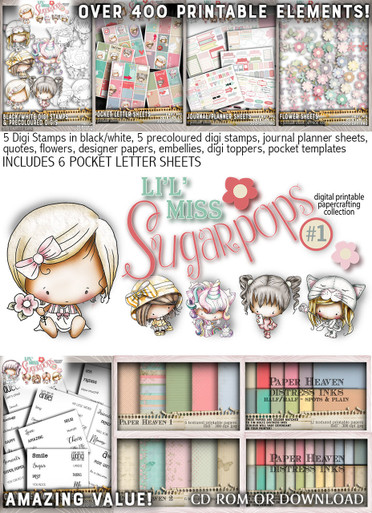 Check them all out here!
We would like you to give a warm welcome to Shylaa and Janet, our newest members of the Polkadoodles Design Team....See their wonderful creations below and why not pop along to their fabulous blogs.
Now onto the fabulous inspiration from all of the Design Team.
Shylaa: It is always fun to have a friend to play in sunshine. I have created a scenic card using Horace & Boo collection. Created the background using stencils and adhered the precoloured digis to create playful scene.
Craftica Here! Sunshine Yellows was a very fun theme for me I love to work my planner every week with a different theme or color and I decide to use A design sheet from the online Polkadoodles STORE. It was easy to print at home great colors and a lot of fun in one sheet.
I was able to decorate the complete week spread using a single design sheet, it has lots of images and you can get may ideas out of it, So I think probably will continue using these as there are lots of themes and colors!
Jacki - Hello PD friends this challenge really got me thinking of sunny days especially with the weather we've been having I have used Daffodil Darling bud from the Darling Buds Collection. I have coloured her with polychromo pencils, keeping the card pretty CAS to keep the focus on the gorgeous image.
Helen - It's that time of year when you start to think about a bit of decorating and what better than some lovely sunshine yellow!! If you don't get the paint all over the carpet like me. Best to stick to some wallpapering like the fabulous Painter/Decorator image from the Work and Play 11 Collection. You can find it right here in the store http://www.polkadoodles.co.uk/work-play-11-download-digital-crafting-collection/....
Such fabulous creations! Wow!
Now onto our Winner and Top 3 of our Anything Goes Weeks 20/21 Challenge.....
The Winner, chosen by Random Org, is.....
Please email us HERE, withing 14 days, quoting the following code PD23001wk20,
to claim your prize of $10 worth of downloads
Here is your Winners Badge to display on your blog...
Onto our Top 3, and in no particular order, chosen by the Design Team
Here is the Top 3 Badge for your blogs...
Congratulations to everyone. We thank you all for taking part in our challenges.
We love coming to visit and seeing all your wonderful creations...
Now it's over you.....You can enter our current